Elite Travel, Inc. Completes Site Inspections in Las Vegas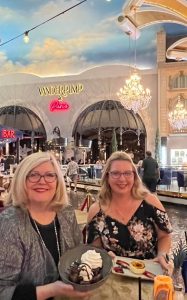 CAPE GIRARDEAU, Mo. --- Elite Travel, Inc.'s Tonya Blunt and Carolyn Sandgren (Kempf) completed site inspections in Las Vegas, Nevada. The travel advisors observed the most popular resorts on the strip: the Paris Hotel, Horseshoe, Waldorf Astoria, The Venetian, Caesars Palace and Treasure Island.
"With nearly 300 hotels in Las Vegas, we know that where you stay is important. We go on these inspection trips to make sure we are providing our clients with the most up to date and honest reviews from people they trust," stated founder and CEO, Sandgren (Kempf)
In Blunt's downtime, she used the hop on/hop off bus to get the full Vegas experience. She encountered celebrities at Madame Tussauds Las Vegas, rode the gondola at the Venetian, and saw Donny Osmond at his Las Vegas Residency at Harrah's. Blunt commented, "Anytime we get to travel to a popular vacation destination is always great, but when we get to actually experience the location as our clients do, it is even better! Taking the time to do some of the more popular tours in Vegas really gave me a better understanding of the area and all the amazing things to do. It's an incredible destination with something for everyone!"
Elite Travel, Inc. was founded in 1992 by people who love travel for its ability to enrich lives and increase appreciation for the world in which we live. You can get their activity recommendations at busybeetours.com. Please contact them at 573-334-1234 or cps@elitetravelinc.com or visit them www.elite-trips.com.