SEMO Athletics and SEMO Food Bank Team Up to 'Strike Out Hunger'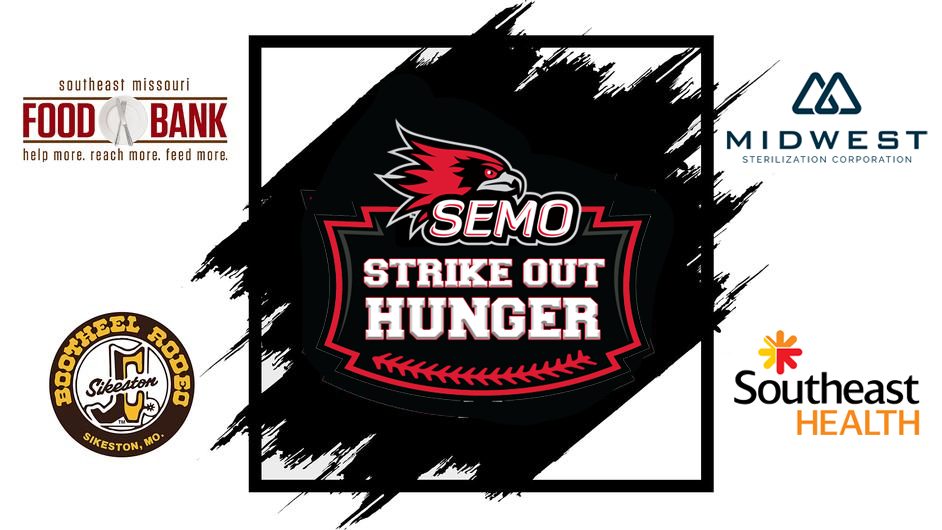 CAPE GIRARDEAU, Mo. – Southeast Missouri's Department of Athletics is again teaming up with the Southeast Missouri Food Bank, this time to Strike Out Hunger during the 2023 baseball season. Sikeston Jaycees, Midwest Sterilization and SoutheastHEALTH are also involved in this great cause. For every strikeout by opposing hitters this year, Sikeston Jaycees, Midwest Sterilization, and SoutheastHEALTH will all donate $3 to the Southeast Missouri Food Bank. Each strikeout by a SEMO pitcher will supply 36 meals to families facing hunger in the southeast Missouri region. Last year, Redhawk pitchers recorded over 500 strikeouts.

"We are excited to team up again with the Southeast Missouri Food Bank," said Senior Associate Director of Athletics for External Operations Nate Saverino. "The fight against hunger across the region never stops and this partnership is a win-win for our community and generous sponsoring partners." "We are so excited to partner with SEMO Athletics and the Redhawk baseball team for the first Strike Out Hunger campaign," added Joey Keys, chief executive officer of SEMO Food Bank. "After the great success of Sack Hunger in the fall, this is a wonderful way to continue supporting SEMO Athletics while helping neighbors facing hunger across southeast Missouri. We appreciate our sponsors stepping up to the plate to fight hunger!" River Radio, the official radio broadcast partner of SEMO Athletics, will also support the campaign by airing public service announcements during Redhawk baseball broadcasts on SEMO ESPN throughout the 2023 campaign. Fans who wish to join the Redhawks in the fight against hunger can donate to the Southeast Missouri Food Bank at SEMOFoodBank.org.

Southeast Missouri Food Bank Southeast Missouri Food Bank provides food to 140 food pantries, soup kitchens, and shelters in 16 southeast Missouri counties. They include Bollinger, Butler, Cape Girardeau, Carter, Dunklin, Madison, Mississippi, New Madrid, Pemiscot, Perry, Reynolds, Ripley, Scott, Ste. Genevieve, Stoddard, and Wayne counties. The food bank also provides mobile food distributions, monthly boxes of food to eligible seniors and weekend backpacks of food to 1,200 students in 30 school districts. The mission of Southeast Missouri Food Bank is to end hunger and leverage the power of food to build a healthy community. The food bank is affiliated with Feeding America, the nation's largest food bank network, and has received the highest possible rating from Charity Navigator, attesting to its adherence to best practices. Those interested in helping can do so by making a tax-deductible contribution, donating food or volunteering. Visit semofoodbank.org for more information.

Sikeston Jaycees The Sikeston Jaycee Bootheel Rodeo has been a tradition in Sikeston, Missouri for over 70 years. Every year, the Sikeston Jaycee Bootheel Rodeo brings over 500 top PRCA cowboys and cowgirls to Southeast Missouri and brings top-tier musical acts every year. The Sikeston Jaycee Bootheel Rodeo donates over $125,000 annually to the surrounding areas to numerous organizations. Attending the Sikeston Jaycee Bootheel Rodeo truly gives back to others in need. The Sikeston Jaycee Bootheel Rodeo has been nationally recognized as a Top 40 Outdoor Rodeo in the country. In 2021, the Sikeston Jaycee Bootheel Rodeo was recognized as the Great Lake Circuit Rodeo of the Year. The Great Lake Circuit covers Missouri, Illinois, Indiana, Kentucky, Iowa, Michigan, Minnesota, Ohio, and Wisconsin PRCA rodeos. The Sikeston Jaycee Bootheel Committee prides itself for being the largest volunteer-only rodeo in the nation.

SoutheastHEALTH At SoutheastHEALTH, the region's premier healthcare system in southeast Missouri, patients receive excellent care of the highest clinical quality, close to home. Within the SoutheastHEALTH network are more than 51 care locations in 11 communities, including hospitals, primary and specialty care clinics representing over 30 clinical specialties and extending care for patients in a four-state area. Learn more at SEhealth.org.

Midwest Sterilization Corporation Midwest Sterilization Corporation, located in Jackson, MO sterilizes medical devices for device manufacturers. Device sterilization is a critical part of the device manufacturing process and is essential to keeping patients safe from pathogens. MSC provides sterilization for more than 40 percent of the nation's sterile procedure trays, representing every two out of five surgeries in the United States. MSC remains strongly committed to improving patient health and safeguarding lives. This includes ensuring that public health and safety precautions extend not only to our employees, medical patients, but also to the neighbors and families in the communities where we live and work.