Nick Rapisardo Agency- American Family Insurance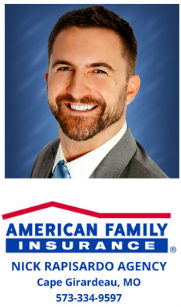 The Nick Rapisardo team – American Family Insurance, is committed to providing honesty, transparency, and education to their customers through a step-by-step consultative process so you can count on them for being the bearer of good news on what could otherwise be a bad day. Nick took over for a retiring agent on February 1st, 2022. Prior to owning his own insurance agency, Nick worked for an agent with another insurance company and was a Territory Manager for US Foods prior to that for 10 years.
As your American family Insurance Agent in Cape Girardeau, Nick can offer you dependable auto, home, business, and life insurance, as well as other insurance products. His team is licensed in Missouri, Illinois, and Georgia.
A goal for Nicks Agency is to be well known as a team of community leaders, dedicated to consulting, educating, servicing, building life-long relationships with and protecting local families and small business with coverage that fits them and their families' budget.
As a new Chamber member, Nick is looking forward to building relationships with other local business owners and leaders in the community. As a first-time business owner, he feels like there is a lot that he can learn from experienced entrepreneurs in the area and is excited to have to opportunity to give back to the community!