Missouri Bicentennial Mural Installation Reveal Upcoming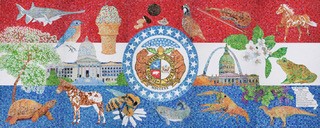 The Missouri Bicentennial Mural, which originated from Painted Wren Art Gallery here in Cape Girardeau, is being installed next week in the Harry S. Truman Building in Jefferson City, Missouri. This impressive 12 feet by 30 feet mural took 2 1/2 years to complete, with 16,116 people having each painted a 2-inch right triangle. Nineteen state symbols and the state capitol are depicted on the mural. Because of this project, the St. Louis Gateway Arch became the state monument. It wasn't a state symbol before, though most people think of the Arch when they think of Missouri. Even with the Covid19 pandemic, we were able to complete this project in time for the Bicentennial Celebration on August 10, 2021 at the Missouri State Capitol.
The reveal of the historic Missouri Bicentennial Mural will take place on Thursday, June 23, 2022 at 2:30 p.m. at the Truman Building in Jefferson City.