Green Bear Project Founder and Educator Receives Standing with Children Award
Green Bear Project Founder and Educator Receives Standing with Children Award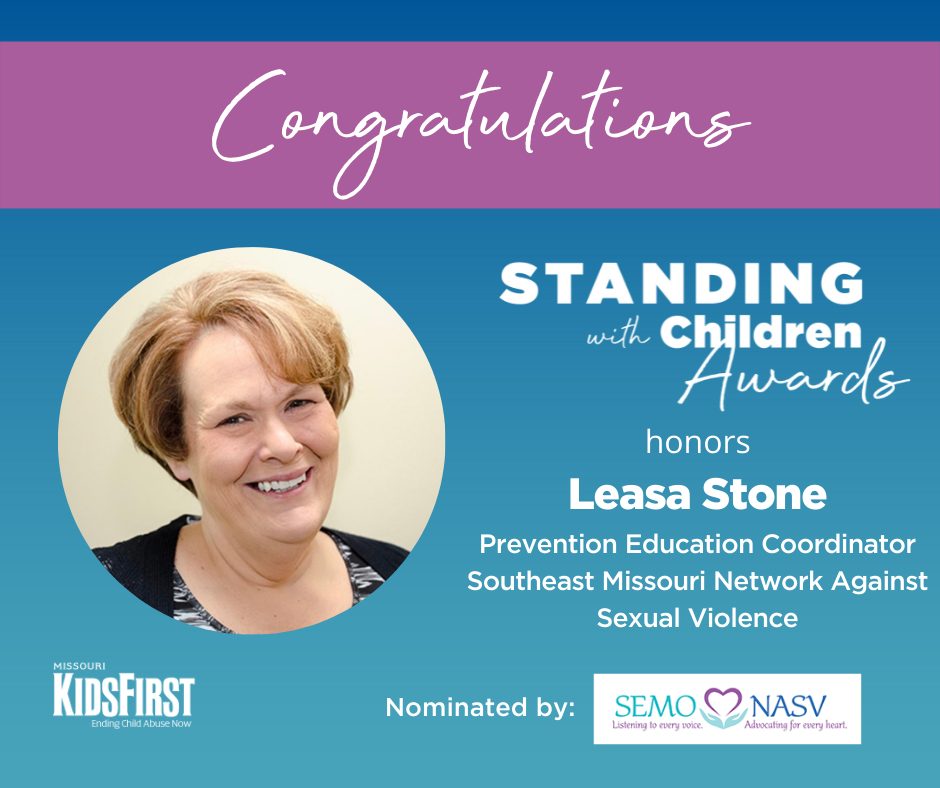 Leasa Stone founder and educator of the Green Bear Project through Southeast Missouri Network Against Sexual Violence was honored at the Missouri KidsFirst - Standing with Children Awards in April 2022 for her outstanding efforts throughout her career to provide outreach and education to prevent child abuse and neglect!
The Standing With Children awards are statewide honors given to individuals who have made important contributions to child protection in Missouri, including demonstrating initiative in raising awareness of issues facing children who have been victims of abuse. Over the years, awards have been made to legislators and child advocates who made important contributions to child protection in Missouri. Recipients are individuals who have advanced the child advocacy center movement in Missouri, promoted the use of multidisciplinary teams in child abuse investigations and championed legislation that creates safer communities for children by supporting Children's Division and traditional MDT partners and funding for CACs, the SAFE-CARE program and other agencies and services that are critical to advancing child protection in Missouri.
Stone founded The Green Bear Project in 2001 with a mission to educate the community about child abuse. The program was created in memory of Baby Ty, a little boy who died as a result of abuse. The project's primary mission is to develop child abuse prevention programs to take into local schools and communities to educate children, parents, teachers, other professionals, and community members. Over the past 20 years, Green Bear has educated over 150,000 adults and kids about the dangers, warning signs and prevention of child abuse through our various programs. The Green Bear Project offers classes in Bollinger, Cape Girardeau, Dunklin, Mississippi, New Madrid, Pemiscot, Perry, Scott, and Stoddard counties. Stone also helped bring to fruition Green Bear Junction in partnership with Discovery Playhouse and A Walk in the Park with Green Bear a family friendly community event.
The SEMO-NASV team is so proud of Leasa Stone and all she has accomplished with the Green Bear Project! Congrats!