SEMO-NASV needs your help!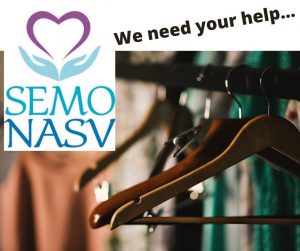 Hello SEMO-NASV family, I am posting today because we are low on some much-needed items that we provide sexual assault victims that come to our organization to have a Sexual Assault Kit (SAK) performed. After a victim has experienced sexual assault, we must collect all their clothing for the SAK. This leaves them with nothing to return home in. We are seeking donations of a few different new with tags clothing items that we can provide these victims when they leave our facility. We are in desperate need of underwear, bras, t-shirts, comfortable pants (sweats or leggings), and flips flops for teens and women, sizes XS to 3XL. All clothing items are provided to the victims free of charge. Having these comfortable clothing items after experiencing sexual assault is crucial to their well-being and mental health.
You can bring these new items with tags to SEMO-NASV at 1359 N Mt. Auburn Rd, Cape Girardeau, MO 63701 during our normal operating hours. If you have a large donation and are unable to drop-off, please contact agasser@semonasv.org.