Mark Stone joins United Way of SEMO as Director of Market Development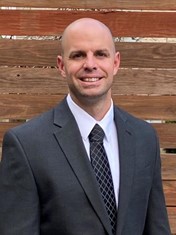 The United Way of Southeast Missouri welcomes Mark Stone as Director of Market Development. Stone previously held the position of Director of Game Operations and Facilities/External Relations at Central Methodist University in Fayette, MO. In that capacity, he also oversaw all corporate sponsorships and organized the department's annual fundraising golf tournament and athletic auction.
Stone brings 15 years of college administration experience to his new position at UWSEMO. During his time at Central Methodist University, he served as the Assistant Dean of Student of Activities and Orientation and later as the Assistant Dean of Student Engagement. He oversaw all student activities which included freshman orientation, homecoming, intramural competitions, Service Day, the student rec center, student life, and all on-campus student organizations.
He received his Bachelor's degree in 2004 from CMU with a major in Communication and a minor in Business and his Masters degree in Education in 2005. Stone is a member of the Air Force Reserve at Whiteman Air Force Base. He is an Eagle Scout; he is married to Amanda, his wife of fifteen years; and they have two sons, Matthew, 7, and Jacob, 3. They reside in Cape Girardeau.