Plan a Holiday Party Your Team Actually Appreciates
This post was written by Chamber member and Guest Contributor, Megan Frank, Chief Operations Officer of OnBoard LLC.
2020 has been a year full of twists, turns, changes and collaborations (You obviously know this). Most likely, your organization has had more change in direction this year then ever before. Your office holiday party will be the same deal. But, how do you plan on office party in a national pandemic? I do not have a answer for you specifically...but I DO have some tips and things to consider when planning this highly-anticipated year-end celebration!
What do your employees ACTUALLY want?
Seriously, first and foremost, what does your team want this year? There is no use in planning an extravagant party with every CDC guideline and precaution if your employees do not actually feel comfortable getting together! So, ask them!
Take a poll among your team and find out what THEY would like to do. (The point is to celebrate them anyway, right?!) Find out if they would attend an in-person event, a virtual event or prefer a different form of employee appreciation. Some will be dying for some sort of social interaction, while others may not feel comfortable at all with seeing people face-to-face. Some may have other, really cool, ideas on how to show appreciation without the typical holiday party. But, to find out, you have to ASK!
After polling your employees (this can be through e-mail, survey, break room voting, be creative!), you will need to find out a few more things before proceeding.
Let's break down each option.
1. Traditional, In-Person, spike-the-punch Holiday Shindig
You can't blame them for wanting to get together! Everyone is a little 'zoom-ed out' and ready for some human interaction. But, we are still in the middle of a pandemic..and quite frankly, from an HR standpoint, YOU don't want to be the reason that YOU take out your entire workforce. So, here are a few more things to consider:
What precautions would employees like to see?
What precautions are suggested (local regulations, CDC, industry-specific)
What is the current COVID positivity rate in your area?
Once you have these answers, then you can start planning. Here are a few tips for your planning process:
Be sure to include a venue where everyone can safely social distance. (Think cocktail tables and outside venues)
If you have food, have everything individually plated/ wrapped (No buffet, sorry, but a food truck would be cool!)
Hire a bartender to serve drinks. ALL drinks. (You do not want the 7-up bottle to potentially expose every person in attendance.)
Plan activities such as karaoke and trivia, where coworkers can engage with one another.
Limit your party attendance.
Once you have a safety protocol in place, be sure to have each person in attendance acknowledge and sign that they will follow it.
2. Remote Celebration to End 2020 with a Bang
A year ago, employees would have thought you were insane (or CHEAP!) for suggesting a 'virtual' holiday party. But, here we are, in this crazy year named 2020. And if your team has voted for this option, there are still ways to make it more than just ANOTHER zoom conference call. Some great perks of having the party online is that you can include employees from afar, you don't have to worry about attendees transportation to and from the party, and the budget can be spent on more personal items, instead of a venue! Here are things to consider:
What time and day works best for your team?
Does each team-member have reliable internet to join in on the fun?
If employees are at home, how many have children? (Activities will need to be more familiy-friendly if there is a large population.)
Once you have a time and date secured, have ensured that everyone is ABLE to tune in, and have figured out WHO will be in attendance, it is time to plan. Here are some tips to make it a virtual party to remember:
Choose a theme! (Seriously, everyone loves themes! And you can have your office vote for their favorite!)
Plan to have food and drink delivered. You can utilize CarGo, Uber Eats, Door Dash, etc OR personally deliver a goodie basket to each employee personally!
Make your activities family friendly. (Think dance parties, virtual santa visits, food demonstrations, mystery desserts... They will appreciate the inclusion of their little ones!)
Since a virtual party is not a normal thing, here are some ready-to-go party ideas:
Olympics: This is for the competitive employees! Put together a few games, such as hula hoop contest, or balloon pop and mail the items needed to employees. (Mail them a hula hoop and package of balloons). Then have the competition and awards. For food, have each employee represent a country and send them a meal that represents their team.
Cooking Show: Instead of sending prepared food, send your team the ingredients to make a meal or dessert. Then have a chef from a local restaurant walk your attendees through how to prepare their dish! They will learn something AND enjoy some great food! This is also great to involve families!
Christmas Theme: Put together cookie trays with icing and decorations so your team can decorate cookies together. Afterwards, have a few 'elf' judges decide which one takes first place. Then have santa arrive for virtual visits. Sending a bell for all families to ring to call santa would be extra icing on the cookie 😉
3. No Party-Let's Celebrate a Different Way!
If 2020 has taught you anything, it should be to expect the unexpected. So employees opting OUT of an annual party should not surprise you either. But, how can you celebrate the end of the year and appreciate employees WITHOUT a big annual party? Well, we got you covered. But first, ask your team a few questions:
What, besides money, motivates your team?
What does your team like to do outside of the office?
How does your team show appreciation? (Similar to 'what is your love language')
Once you know these answers, the substitute for a party will be easy! Some employees may prefer a bigger-than-usual bonus to help offset holiday bills or pandemic related expenses. Some may prefer a cool new mug to display with a variety of coffee or tea and all the fix-ins. Some may prefer a gift card to their favorite restaurant to take their family out to eat. The options are seriously endless. The important thing here is to make sure it is personal to your employee. Just because you like wine, doesn't mean you should send each employee a wine-of-the-month club. This is a gift of APPRECIATION, so make sure it does just than.....shows your appreciation!
---
The HR Lady, Megan Frank, has over 5 years of experience as a human resource director. If you have any questions or concerns regarding this issue or any HR-related issues, please feel free to reach out to us for a free consultation!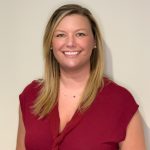 Megan Frank
Chief Operating Officer
OnBoard, LLC
Human Resources Outsourcing